Kahlua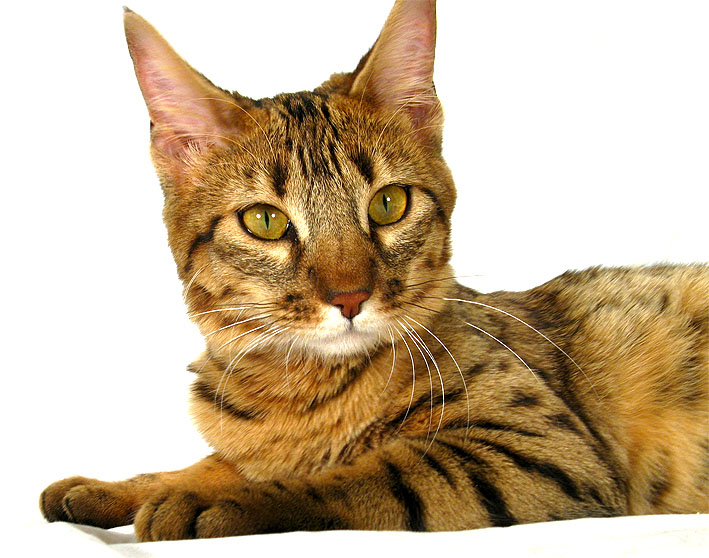 Kahlua is my girl from Christine at Exotictails. The thing I love most about Kahlua is her profile. It is perfectly straight with a shallow chin. She has a small head, deeply set eyes with wonderful shape, long neck, and short fat tail! She has the typical laidback temperament from Demdar lines that use Maine Coon as the outcross with the serval. She is extremely loving and loves being carried on her back in my arms like a baby. In addition to this, she has a very rich reddish-gold colour, great pattern and spectacular contrast.

Kahlua is an F3C brown(black) spotted tabby born July, 2012, out of Demdar Daphne of Exotictails (F2B, Brown Spotted, Dam) and Hybrideal Klaus of Exotictails (F5C, Brown Spotted, Sire).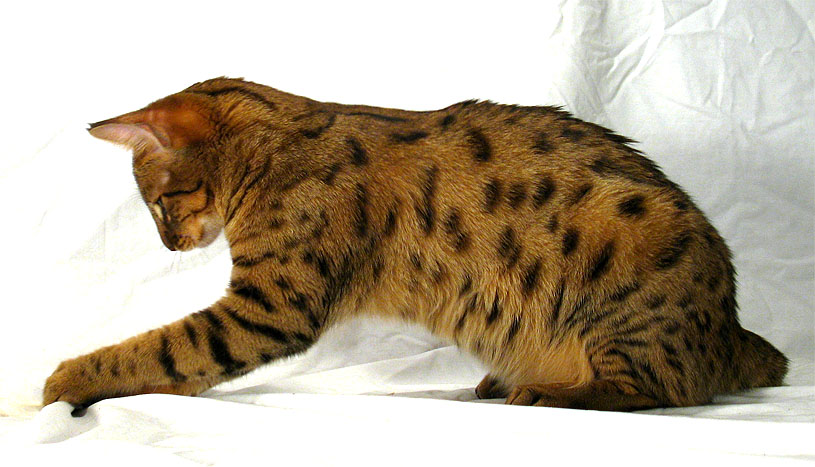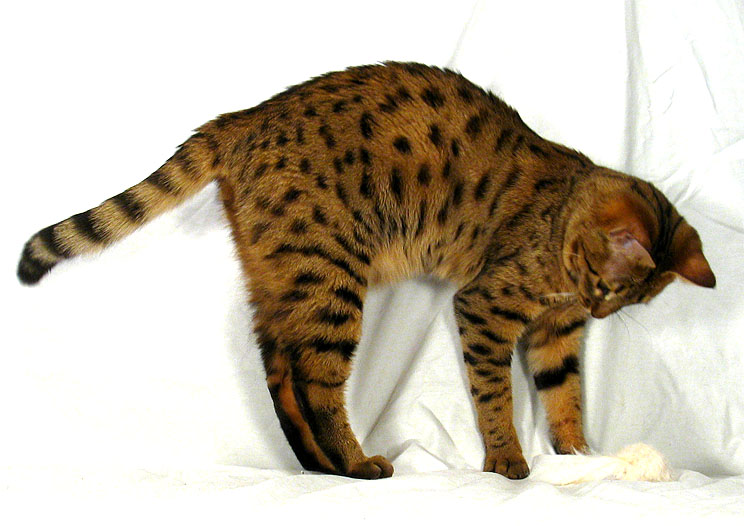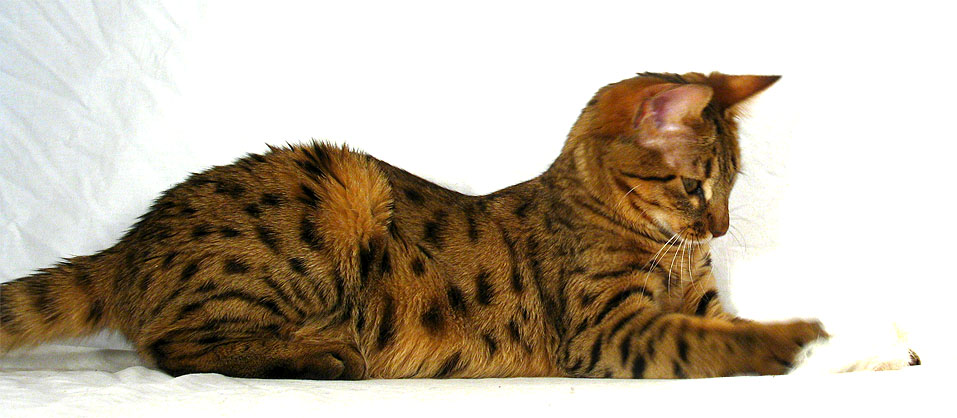 Ninja

Ninja is a daughter of Imani and Knucklebones, which were my foundation Queen and Stud. She is so named because she sort of snuck into the kitten pile when I didn't notice. I had thought Imani was finished delivering her babies, so I packed up my supplies and left her alone. When I checked on her an hour later, there was an extra kitten there!

Ninja has a really exotic feel to her, with very prominant shoulder blades, long neck and body, and good leg length. She has a nice head, with that triangle called for in the standard. She also has lovely eyes that are deeply set, and a wide nose bridge. Her ears are very wide and deeply cupped with well rounded tops and very little taper. I'm also quite pleased with her dark eyeliner halfway down her nose bridge, extending into faint cheetah tear-marks.

Ninja has produced some very nice kittens in her first litter, two of which are in breeding programs. Her daughter Teddi went to Exotictails, and son Cheetah went all the way to Wildside Cattery in Sweden!
Ninja is an F4C Brown Spotted Tabby born March 16, 2011 out of Jasirisana Imani of Spidersweb (F3B, Brown Spotted, Dam) and Jasirisana Knucklebones (F7SBT, Brown Spotted, Sire).