Flashdance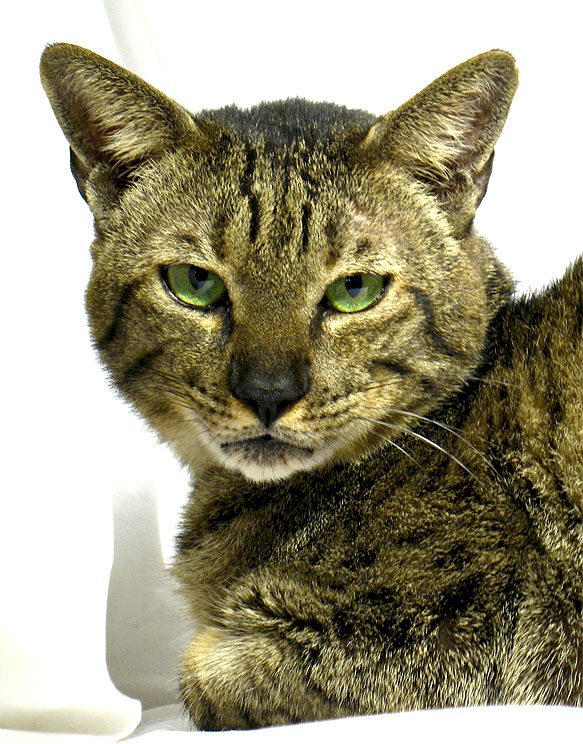 Flash has been neutered and is now enjoying his very much deserved retirement. He spends his days chilling out in my room. He enjoys his pillows and I enjoy his company. I have a couple breedings planned with his son, Lucky Charm, who is owned by Christine at Exotic Tails.
This boy was bred by Joyce Sroufe, one of the originators of the Savannah breed. Flash has been contributing to the savannah gene pool for a long time now; he has certainly left his impression on our breed, and been a part of many different breeding programs. He will be ending his long and successful stud career here at Spidersweb, and then enjoy his retirement as a pampered pet with us.
Even at 9 years of age, he still has much to offer the breed, and has no trouble breeding the girls. He has quite good leg length, good eye shape, large rounded ears, and a nice wide black nose. We are hoping to produce a new line here at Spidersweb with the retirement of several of our girls through Flash's great genes. Maybe we'll be lucky and get some nice typey black-nosed babies.
Unfortunately he was never properly socialized, so is quite shy. Therefore it is difficult to get good photos of him. He's a gentle soul though, and passes on an outgoing and super friendly temperament to his offspring.
Flash is an F6B Brown (Black) Spotted Tabby born December 29th, 2003 out of Newhorizon Direct Effect (F5A, Dam) and A1Savannahs Ebony Liberty (F6B, Sire).
NOTE - FLASH WAS BRED BY JOYCE SROUFE WELL BEFORE SHE SOLD A1SAVANNAHS TO THE STUCKIS.